Taking care to describe things in ways that make sense to the child and inviting them to share their understanding of why you're meeting with them can make a big difference. These practices can enable children to contribute to the conversation and participate fully in your work together. They can also potentially 'open the door' to a conversation with the child about the problem they're facing.
In this episode (the first in our Engaging children podcast series), hosts Chris Dolman and Jen Ly are joined by practitioners Kate Headley, Liz Lodge, Jackie Amos, Jessica Warren and Mthobeli Ngcanga. Together, they share their ideas and reflections on the key skills for working effectively with children.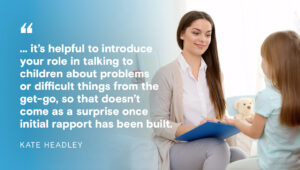 In this episode you will learn:
the importance of understanding the child's perspective on why you're meeting [02:27]
what to consider in regard to transparency when beginning to work with children [06:04]
what other professionals have found helpful in this work [10:49]
Further information and resources:
Engaging children: Good beginnings e-learning course
Hervatin, M. (2020). Practical strategies for engaging children in a practice setting. Adelaide: Emerging Minds.