Autism, neurodiversity, and child-centred practice – part 1
What can we learn about Autism from an Autistic psychologist? In this two-part interview, Dr Erin Bulluss shares about how her lived experience influences the way she works and views Autism as well as suggestions for how to work with Autistic children in a way that is child-centred. Erin has a PhD and postgraduate qualification in clinical psychology. She practices as a clinician as well as offering mentoring to Autistic people of all ages. She sits on the board of Reframe Autism and is a strong advocate of a neurodiversity paradigm of Autism. 
In this episode, we explore what Autism is, including exploring the definition of Autism Spectrum Disorder in the DSM. She also explains why there can be such variation in the way Autistic people present, and the reasons that Autism in girls can get missed.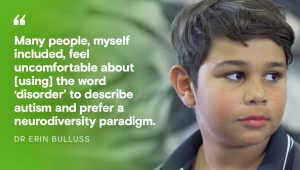 Learning outcomes: 
What is Autism?

(05:53)

S

eeing difference rather than deficit

(08:44)

Why there is variation in the way Autism presents

(10:23)

Why Autism can be missed in girls

(20:14)
Further information and resources: 
Autism, neurodiversity, and child-centred practice – part 2: https://emergingminds.com.au/resources/podcast/autism-neurodiversity-and-child-centred-practice-part-2/
5 Messages for My Younger Autistic Self: Things we wish we had known while growing up undiagnosed with autism: https://www.psychologytoday.com/au/blog/insights-about-autism/202003/5-messages-my-younger-autistic-self 5 Messages for My Younger Autistic Self 
Reframing Professional Language Around Autism in Practice: A practical guide to using respectful language in the professional context: https://www.psychologytoday.com/au/blog/insights-about-autism/202006/reframing-professional-language-around-autism-in-practice
Read about the personal stories of people of all ages with Autism here: https://www.icannetwork.com.au/humans-2019/