Co-discovering hope with children facing hardships
How do you create a sense of hope for children and families who are in the midst great hardship? Social worker and child and family therapist, Angel Yuen, has spent much of her career in Toronto, Canada, working alongside children, young people, and adults who have been subjected to abuse, violence, and oppression. She has taught narrative ideas in several countries for over a decade and is the author of various papers as well as the book 'Pathways beyond despair: re-authoring lives of young people through narrative therapy'.
In this episode, we discuss her particular interest in working with children to co-discover and seek out hopeful and effective ways of responding to trauma and hardship.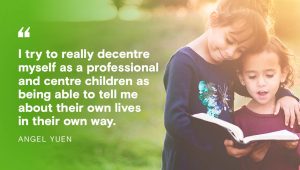 In this episode you will learn:
Identifying children's skills about how they get through tough times (05:20)
Creating a context of hope with families (10:07)
Paying attention to children's language (14:32)
Working in a way that supports children's agency (18:27)