Culturally informed trauma-integrated healing practice part 2
Runtime 00:41:31, Released 24/5/20
We're currently seeking feedback on this podcast and would love to hear your thoughts. It'll take less than five minutes of your time and will help to shape future episodes. You can access the survey here: Podcast feedback. Thanks!
Many Firsts Nations families are creative, energetic, and embodied within their cultural heritage while involved in the systems, structures and opportunities of contemporary Australia. Some families however continue to be held in the pervasive wounding from trauma that has become generational. To fully understand those lives and circumstances, it is necessary to understand and accept the impacts of trauma across generations, without judgement, but with clear insight and intention to use your skills and capacities for healing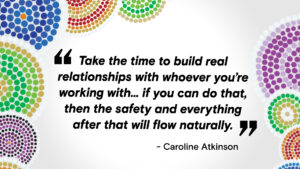 In this episode you will learn: 
[00:59:52] Defining Culturally informed trauma-integrated healing Practice
The behaviour of First Nations children is language. It is important that non-Aboriginal practitioners can listen and interpret this language in a non-judgmental and safe way.
Understanding a child's world is an important step for non-Aboriginal practitioners in this work
[01:13:50] An understanding that it takes time to establish safe and connected relationships with Firsts Nations children who experience the effects of generational trauma
Further information and resources:
https://earlytraumagrief.anu.edu.au/files/ctg-rs21.pdf
https://healingfoundation.org.au/intergenerational-trauma/ourfuture/
https://beaconhouse.org.uk/wp-content/uploads/2019/09/The-Three-Rs.pdf