Dr Angie Willcocks is a psychologist with a rich history of supporting mothers throughout the fertility, pregnancy and postnatal periods. Angie has developed a practice approach that focuses on a holistic understanding of all of the domains of a woman's life – not only those that are connected to her baby.
In this episode, Angie describes her assessment and formulation strategies, which support mothers to consider every aspect of their lives, and the supports they need to maintain social and emotional wellbeing. She is interested in how mothers can look past society's expectations, and make the lifestyle, relationship, and parenting choices that support their long-term mental health and wellbeing.
As part of her commitment to holistic understandings of women, Angie completed a PhD that examined the effects of diet on mothers' mental health. Through this study, Angie found that diet significantly impacted the risk of depression and anxiety during pregnancy and postnatally. She discusses the possible implications for practice that have stemmed from her research, and how professionals can introduce discussions about lifestyle into their everyday engagements.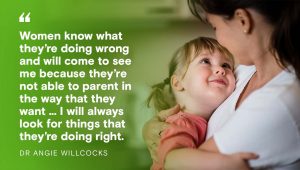 In this episode you will learn:
how to work collaboratively with mothers who are attempting to juggle parenting, work, relationships, and family members with mental health issues (02:45)
why it is important to provide space for a mother to come into a session with her infant, and the information that you can provide to a practitioner for later conversations (06:00)
how to begin a conversation with a mother about the holistic supports she requires to parent in her preferred ways (08:05)
the opportunities that can arise for women when they can stop judging themselves so harshly and start prioritising their own mental health, diet, exercise, and relationships (14:52)
the findings from Angie's PhD study, which examined the effect of diet quality on mothers' mental health (16:13)
the importance of women prioritising their own mental health for themselves, not just for their children or their partner (23:08)