In the second of this two-part podcast series (listen to part one here), you'll continue to hear from Kimberley, Brad and Bec, parents of children who have experienced different chronic childhood physical illnesses. You'll hear how practitioners have been able to support not just the children's physical conditions, but also the social and emotional wellbeing of these children and their families while they are undergoing treatment.
Many children experiencing a childhood physical illness require regular trips to hospital and medical interventions that can be traumatic for both the child and their family. However, the negative impacts on everyone's wellbeing can be minimised by taking a family-focused and trauma-informed approach.
We would like to acknowledge and thank our child and family partners, Kimberley, Bec and Brad for taking the time to share their hard-earned wisdom and expertise with us.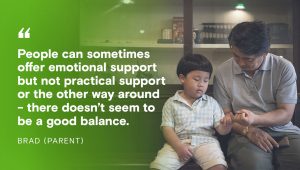 In this episode you will learn:
the types of supports families find helpful while their children are undergoing treatment for childhood physical illnesses [01:17]
the strategies that practitioners use to support the mental health of children throughout the treatment processes [08:36]
the importance of taking a trauma-informed approach to caring for a child with a chronic physical illness [13:45]
how to support the wellbeing of siblings of children with chronic childhood physical illnesses [19:25]
Further information and resources:
Understanding child mental health and chronic physical conditions e-learning course
Childhood physical conditions and mental health fact sheets