In the second episode of this two-part series, clinical psychologist Penny Sih expands upon her description of the 'best life' approach: a way of engaging positively with children by discussing the relationships, routines and activities that sustain and energise them. (If you haven't listened to part one, you can go back and listen to it here).
Penny has spent 17 years working with children, teens and their families. During that time, she has developed engagement processes with children that focus on an understanding of their 'best life'. In this episode, Penny applies her 'best life' approach to Zoe – a fictional eight-year-old girl who has been referred to a psychologist because of her school refusal. Zoe appears in the Emerging Minds e-learning course, Practice strategies for assessment and engagement.
Penny describes her approach in engaging with both Zoe and Zoe's mother, Brigid, to increase their confidence and motivation in the therapeutic process. She discusses strategies to encourage the contribution of parents, and how this can help them to support and nurture their children. Penny provides practical examples of noticing parents' positive intentions and strengths, in ways which help them to consistently replicate these positive behaviours with their children.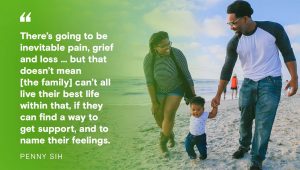 In this episode you will learn:
how Penny negotiates with children and parents regarding who is 'in charge' of the therapy sessions (2:14)
how the therapist can play a role in supporting Mum or Dad to have the confidence to be the kind of parent they would prefer to be (6:42)
how to support parents to notice when their child demonstrates strengths and is able to overcome the effects of the problem in their life (8:25)
strategies for noticing children's cues during sessions, and asking them questions about their reactions to particular topics (10:46)
strategies for helping children to develop control in their everyday lives (14:50)
Supporting resources: