How can a national workforce approach support children's social and emotional wellbeing?
Runtime 00:28:26
Released 8/4/19
We're currently seeking feedback on this podcast and would love to hear your thoughts. It'll take less than five minutes of your time and will help to shape future episodes. You can access the survey here: Podcast feedback. Thanks!
In this episode, we sit down with the Director of the National Workforce Centre for Child Mental Health, Brad Morgan, to discuss why supporting the mental health of children under 12 years is so important. Brad is trained as an occupational therapist and brings with him a wealth of wisdom and experience, having previously led the Children of Parents with a Mental Illness (COPMI) initiative. Tune in to learn why the mental health of children often flies under the radar and the approach that the National Workforce Centre is taking to support practitioners and other professionals to strengthen children's mental health.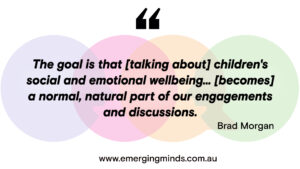 In this episode you will learn: 
– The role of emotions in good mental health and child development  (06:42)
– What is known about children's mental health in Australia? (09:41)
– Why children as a group miss out on services (15:25)
– The National Workforce Centre's approach to supporting children's mental health (19:39)