How can we simplify the complex topic of child development to support earlier identification of children who need specialist support? Susan Pagel and her colleagues tackled this question in creating the Red Flags Guide. A tool to help parents and practitioners have conversations about children's development, the Guide provides a simple framework for identifying concerns that might need referral to a developmental service.  
There are two versions of the Guide; one for children aged 0-5 years (the Red Flags Early Identification Guide), and one for school-aged children six years and older (the Red Flags School-aged Guide). This conversation with Susan focuses on the more recent development of the school-aged guide.  
Susan Pagel leads a team of integrated multidisciplinary child development service staff within Brisbane metropolitan area. She is the creator of the Red Flags School-aged Guide and co-chair of the Child Development Sub–Network. Susan graduated from a Bachelor of Speech Pathology over 20 years ago and has worked in paediatrics in rural and remote Queensland, the United Kingdom, and Brisbane.   
Susan found working in the child development service at Queensland Children's Hospital highlighted the difficulties in identifying developmental challenges in school–aged children (6-17 years), especially when there are co-morbid mental health and medical complexities. The need for a school-aged version of the Red Flags Guide became apparent, leading to a collaborative project to create a resource for health professionals to support identification of school–aged children with developmental challenges.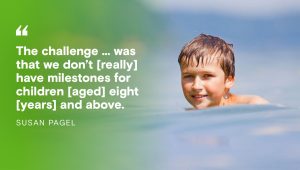 In this episode you will learn: 
the 

history behind developing the 

Red Flags

 School-aged

 Guide

[05:00]

the

 challeng

e of

 identify

ing

 developmental concerns in older children

[10:24]

how to

differentiat

e

 between developmental and mental health concerns

[

12

:

50]

why it's important to

be aware of certain transition periods where children can present with more challenges

[

16

:

38]
Further information and resources: 
The Red Flags Early Identification Guide is available here: https://www.childrens.health.qld.gov.au/wp-content/uploads/PDF/red-flags.pdf 
The Red Flags School-aged Guide is available here: https://www.childrens.health.qld.gov.au/wp-content/uploads/PDF/red-flags-school-aged-blank-contact-details.pdf 
The Pink Book is available here: https://www.childrens.health.qld.gov.au/wp-content/uploads/PDF/pink-book.pdf