Inclusive practice with rainbow families
Runtime 00:26:52, Released 28/3/20
We're currently seeking feedback on this podcast and would love to hear your thoughts. It'll take less than five minutes of your time and will help to shape future episodes. You can access the survey here: Podcast feedback. Thanks!
What does the evolving nature of sexual and gender identities mean for working with families? Tune into this episode with Dr. Priscilla Dunk-West to explore this question and learn about shifts you can make in your practice and organisation to become more inclusive of rainbow families.
Priscilla is a sociologist and social worker and has worked in academia in both Australia and England. She practiced social work firstly in child protection and later went on to specialise in sexual health counselling. Her research interests include identity, sexuality, intimate relationships and parenting. She has produced five books and her bestselling text 'How to be a Social Worker: A Critical Guide for Students' has been translated into Swedish and is now in its second edition.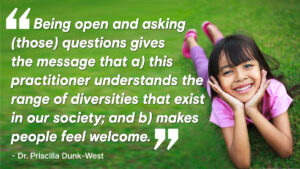 In this episode you will learn:
The social and cultural context of sexuality (02:47)
Asking questions to understand family configuration rather than making assumptions (07:43)
What child-focused and parent-sensitive practice looks like (12:44)
What services can do to promote inclusivity with rainbow families (23:32)