In this episode of the Emerging Minds podcast, Bill Wilson and Chris Dolman discuss how working within a narrative therapy framework can support connections and resilience for Aboriginal and Torres Strait Islander families. 
Bill Wilson is a narratively trained Social and Emotional Wellbeing Worker, while Chris Dolman is a narrative therapist and Senior Workforce Development Officer at Emerging Minds. In this conversation, they reflect on their experiences of using narrative therapy with Aboriginal and Torres Strait Islander families to facilitate a two-way learning discussion.  
Bill discusses his work with Aboriginal men in the prison system, and how a curious, strengths-based approach has helped him to understand the values, skills and knowledge that can at times be overshadowed by problem stories. Chris speaks about his work as a non-Indigenous practitioner, and how important it is to position himself not as an expert in the lives of his clients, but as someone wanting to understand that person, beyond the reach of the problem story.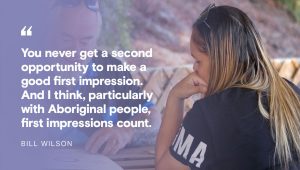 In this episode you will learn: 
how people are 'double-storied', and how focusing only on the problem story misses the strengths and knowledge people come with (00:41)
the importance of Aboriginal and Torres Strait Islander connections and kinship for healing (01:50)
how the concept of 'family' can look very different in different places and communities (15:34)
how when families have the chance to discuss and identify their practices of strength and resilience, it becomes more possible to replicate them in the future (19:45).
Further information and resources:  
e-learning courses:  
https://emergingminds.com.au/online-course/using-aboriginal-cultural-knowledge-systems/  
https://emergingminds.com.au/online-course/working-with-first-nations-families-and-children-a-framework-for-understanding/  
Exploring narrative practices to support children and families
https://emergingminds.com.au/resources/exploring-stories-of-hope/#exploring-narrative-practice-to-support-children-families-and-communities  
Exploring stories of hope  
https://emergingminds.com.au/resources/exploring-stories-of-hope/