Dr Pamela Douglas is a general practitioner and medical director of Possums & Co., a charity which educates health professionals in evidence-based neuroprotective developmental care, including the Possums Baby and Toddler Sleep Program. Pamela is an adjunct associate professor with the Maternal Newborn and Families Research Group at Griffith University, and Senior Lecturer with the Primary Care Clinical Unit at The University of Queensland. She is also the author of The discontented little baby book: all you need to know about feeds, sleep and crying.
In a society where one third of parents seek help regarding their baby's sleep, Pamela has spent her career researching ways to support babies and parents to develop effective and nurturing sleeping habits. She has worked with parents to develop evidence-based neuroprotective developmental care as a crucial understanding in providing responsive or cued care for babies. 
An important part of Pamela's work has focused on how babies can initiate and participate in a synchronised relationship with their mother. Pamela works with parents to synchronise their sleep as much as possible with the patterns of the baby. Pamela discusses parents' anxiety in creating regimented and formulated sleep times, and how she has attempted to shift the focus on enjoying awake times with babies and the creation of rich and enjoyable sensory experiences.  
In this episode, we discuss what the latest insights from neuroscience, anthropology and maternal and infant research tell us about infants' needs around sleep, and how sleep can become a more harmonious experience for families.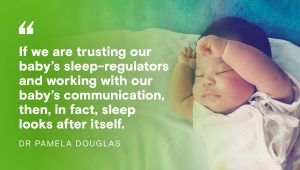 In this episode you will learn:  
why the responsive or cued care of our babies

 is

 important if we are to 

optimi

s

e developmental outcomes and secure attachment [5:09]

 

t

he key 

principles

 of the first wave 

behavioural

 approach to bab

ie

s

'

 

sleep

,

 

and how these might 

affect a parent's ability to experiment with sleep times and patterns

[9:22]

h

ow to trust 

a 

baby's sleep regulators and focus on providing the baby with rich and

changing sensory input [19:47]

h

ow 

an evolutionary context help

s

 us to understand 

what

 

bab

ies

and parents need to enjoy positive sleep patterns

 [26:16]