Re-release: Supporting children and families through telehealth
How do you engage children when working with them remotely via video? In this episode, Tayla Iellamo, an occupational therapist who works for Royal Far West, shares her experience of delivering telehealth services to children in rural and remote areas. Tayla has worked as an OT for five years and has been delivering telehealth services through the Windmill and Telecare programs at Royal Far West for the past year. She has a passion for working with children and families in remote areas and finds telehealth a valuable and dynamic approach to delivering therapy.
Tayla shares her experience of what helps families prepare for a telehealth service, what to consider when engaging children through a video platform, and troubleshooting tips and tricks for when things don't go as planned.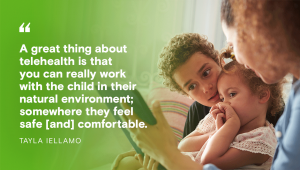 In this episode you will learn:
What a family can expect from the first telehealth session (07:15)
Helping families become comfortable with technology (10:38)
Keeping the child's context in mind in telehealth service delivery (18:19)
Suggestions for practitioners new to telehealth (24:22)
Further information and resources:
A practical guide to working with children and families through telehealth: https://emergingminds.com.au/resources/a-practical-guide-to-working-with-children-and-families-through-telehealth/