Re-release – Communities in the immediate aftermath of a trauma
This is a re-released episode from our Community Trauma Toolkit podcast series.
In this episode, we talk to Kate Brady, a Churchill Fellow and National Recovery Advisor at Australian Red Cross, about what happens in a community during and after a traumatic event. She discusses the difference between natural disasters and community traumas, what communities might experience, and how families, communities, and first responders can all respond to and support children in their recovery.
In this episode you will learn:
What characterises a community trauma (01:05)
What families and communities might experience (11:18)
How to support families and children in affected communities (15:30)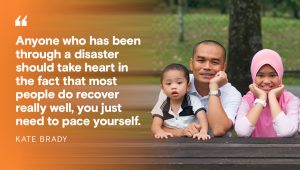 Further information and resources:
A guide for first responders: Supporting children immediately following a disaster