Anxiety is one of the most common mental health difficulties experienced by Australian children. In this episode, we're joined by Dr Andrew Leech, a GP based in Perth, Western Australia, to discuss working with children, parents and families where paediatric anxiety may be present.
Andrew has a passion for paediatric general practice as well as the role that GPs can play in positively influencing a child's life trajectory. This year, Andrew was selected to be part of the WA Health Clinical Advisory Group Taskforce reviewing mental healthcare in children – a review that is still ongoing.
Andrew discusses the impacts of the COVID-19 pandemic on child anxiety; anxiety presentations by age and stage; strategies to support children experiencing anxiety; how to recognise when further specialist support might be needed; ways of 'holding the family' while they await specialist support; and resources to help GPs in this work.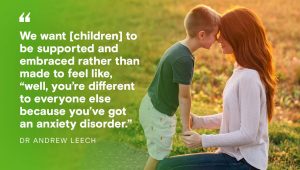 In this episode you will learn:
what the prevalence of childhood anxiety is in Australia (03:56)
what to expect from typical developmental behaviours and when a child may need further support (05:24)
how to identify anxiety presentations in different ages and stages, including infants, toddlers, and school-aged children (06:53)
how to decide when a child may require specialist support and how to support the family through that process (12:49)
ways to support a child experiencing anxiety and work sensitively with the family (16:36)
ways to work sensitively with the child's parents/carers (22:33)
how GPs can support families as communities start to re-open after the COVID-19 pandemic, including transitions back to school and living with COVID-19 in the community (27:19)
where to find supporting resources to assist GPs in this work (30:02)