Why is it so difficult for children to disclose sexual abuse and how can we make it easier? This episode we're joined by Carol Ronken, Director of Research at Bravehearts. Carol draws on her 17 years of experience working in the field to answer this question, as well as share other insights on the issue of child sexual abuse.  
As well as overseeing research at Bravehearts, Carol is a Visiting Fellow in the School of Justice, Faculty of Law, at Queensland University of Technology and sits on a number of working groups including the Australian Centre to Counter Child Exploitation Research Working Group, the Twitter Trust and Safety Council (Australia), and the Australian Child Rights Taskforce. 
In this conversation, we explore the topic from multiple angles including the definition of child sexual abuse, what prevention and early intervention looks like, and how adults can get better at recognising signs and indicators.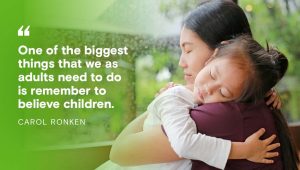 In this episode you will learn:
how to define what is meant by 'child sexual abuse'

[07:42]

how sexual abuse differs from other forms of abuse and neglect [12:45]

what prevention looks like with young children [19:15]

how to open up the conversation about child sexual abuse [27:04]

what is important for practitioners to know about child sexual abuse [27:04]

how to make sense of 'red flags' [32:18]

how children are particularly vulnerable in online environments

[

37:46]
 
Further information and resources:
Responding to a disclosure of child sexual abuse: https://emergingminds.com.au/resources/responding-to-a-disclosure-of-child-sexual-abuse/
Responding to children and young people's disclosures of abuse: https://emergingminds.com.au/resources/responding-to-children-and-young-peoples-disclosures-of-abuse/
Making use of practitioners' skills to support a child who has been sexually abused: https://emergingminds.com.au/resources/making-use-of-practitioners-skills-to-support-a-child-who-has-been-sexually-abused/
Information and resources for parents on the Bravehearts website: https://bravehearts.org.au/what-we-do/education-and-training/for-parents/
Ditto's Keep Safe Adventure program: https://bravehearts.org.au/keepsafe 
eSafety Commissioner: https://www.esafety.gov.au/parents