Supporting child mental health in general practice
Runtime 00:24:34, Released 25/6/19
We're currently seeking feedback on this podcast and would love to hear your thoughts. It'll take less than five minutes of your time and will help to shape future episodes. You can access the survey here:

Podcast feedback. Thanks!
In this episode, we speak with Dr Sara Whitburn about the role of GPs in promoting children's resilience and mental health. Sara is a GP and lactation consultant in private practice in Melbourne who has a strong interest in women's and children's health and the early years of parenting. We discuss the unique opportunity that GPs have to support child mental health and ways of bringing the conversation into the consulting room.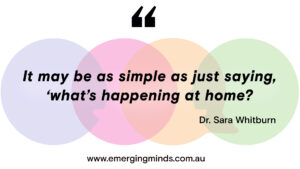 Key learnings:
– Using the continuity of general practice to support children and families (02:39)
– Resources for GPs and families to support child social and emotional wellbeing (04:57)
– Questions to open up a conversation about family functioning and child mental health (09:15)
– Overcoming the barriers in general practice to support child mental health (14:30)
Further information and resources: