How do you support a child through the transition to school, whilst also managing constant changes related to the COVID-19 pandemic?
Educator and researcher, Dr Kathryn Hopps, has spent her career as an early childhood educator and primary teacher in a diverse range of education settings. Her research expertise is in school transitions, and her PhD study focused on the transition to primary school. Kathryn is a member of several national and international transition networks, whose important work includes a transitions position statement.
In this episode of the Emerging Minds podcast, we discuss her particular interest in families' and children's experiences of transitions during the COVID-19 pandemic. Kathryn also draws on her knowledge of early learning and primary school transitions to provide practical advice for parents and carers.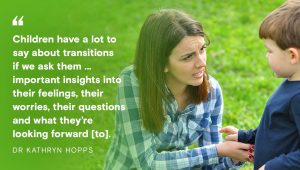 In this episode you will learn:
transitions can sometimes be thought of as a one-off event. However, it's important to think of a child's transitions as a process of adapting to change and finding a sense of belonging that happens over time (02:38)
transitions can also be an opportunity for families to work in partnership with educators to establish a plan aimed at supporting their child's needs (18:12)
research about children's experiences during the COVID-19 pandemic has highlighted that disruptions to their peer relationships has been impactful on their social and emotional wellbeing (25:09)
it's important to know that there can be a level of parental grief associated with transitions, and to recognise that this is a common experience. As a parent, it becomes important that you're aware of these emotions and find ways of looking after yourself during these times. (26.20)
Further information and resources:
First transitions take time – RMIT
Transition (back) to school – Dr K. Hopps
Transition to school – Preparation for families – ACT Council of P&Cs
Follow Kathryn on Twitter – @drkhopps