The role of speech pathology in child mental health
How do speech pathologists support children who have experienced trauma? In this episode we're joined by two speech pathologists based in Victoria, Kerry Holland and Chantele Edlington. Both have worked extensively in the public mental health system and share a passion for addressing the speech, language, and communication needs of children who've experienced trauma. Kerry currently works in private practice, while Chantele is a Senior Speech Pathologist in the Early in Life Mental Health Program at Monash Health. 
Tune in to learn about the interconnection between speech and language development and children's mental health; how speech and language development is impacted by trauma; and ways to better support children's speech, language, and communication needs.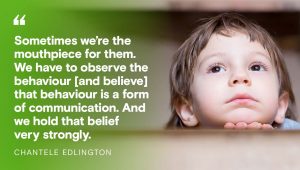 In this episode you will learn:
What is the relationship between attachment and a child's speech, language, and communication development? [07:55]
How does the experience of trauma affect speech and language development? [12:07]
What happens when adults misinterpret speech, language, and communication difficulties? [20:52]
Key messages for practitioners about children's speech, language, and communication needs. [25:49]
Interconnectedness of speech, language, and communication development and wellbeing. [28:22]
Further information and resources: