What happens when we welcome children's emotions rather than minimising or dismissing them?
This episode explores the benefits of an emotion-focused approach to parenting with associate professor and clinical psychologist, Sophie Havighurst. Sophie has spent her career developing, implementing, and evaluating the program, Tuning in to Kids, which was designed to teach parents how to support their children's emotional development.  
Sophie discovered the impact that an emotionally disconnected childhood can have while working in mental health and forensic settings early in her clinical career. This discovery set her on a course of wanting to change the way parents respond to children's emotions and the development of the suite of Tuning in to Kids programs. 
In this episode, we discuss why connecting with children's emotions is so important for their development, along with some of the fundamental principles taught in Tuning in to Kids.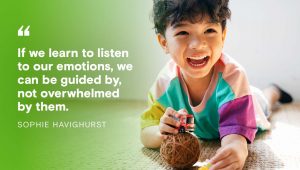 In this episode you will learn:
about the Tuning in to Kids parenting program [

06:20]

w

hy understanding emotions is so important

[

09:50]

how to help parents identify their automatic reactions

[

12:28]

why it's important to use minimal language when children are upset

[

17:25]

what changes were observed in the children and parents who took part in the Tuning in to Kids

program [

24:50].
Further information and resources: