What are adverse childhood experiences?
Runtime 23:30, Released 12/8/19


In this episode, we talk with Nicola Palfrey about adverse childhood experiences (ACEs); what they are and how they can be of use to practitioners who work with children and families. Nicola is a clinical psychologist and researcher who has worked extensively with children, adolescents and adults who have experienced significant adversity and trauma. She is responsible for leading the National Workforce Centre for Child Mental Health's approach to trauma, grief and loss along with its impacts on child mental health.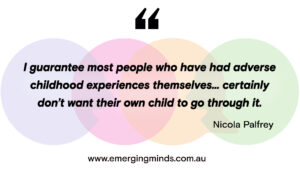 In this episode you will learn:
– Why could it be useful for a practitioner to know about ACEs? (04:33)
– How to have sensitive conversations about ACEs (08:40)
– Settings where ACEs screening is most beneficial (11:30)
– How ACEs fit with other explanatory frameworks (19:26)
Further information and resources: