Research shows children like adults to be interested in what they're into, what they need, and how they respond when things are happening around them (Moore, 2017; Griffiths-Cook & Fenn, 2018).
Talking with children about what they enjoy and what they're good at can create a context for understanding the child's perspective on the problems they're facing. Conversations exploring children's strengths and interests can also provide a foundation from which to build further skills to respond to these problems.
In this episode (the second in our Engaging children podcast series), hosts Jen Ly and Chris Dolman are joined by practitioners Lisa Johnson, Sally McLaren, Annette Flanagan, Liz Lodge and Ali Chisholm. Together, they share their ideas, reflections and strategies around exploring children's strengths, skills, know-how and interests.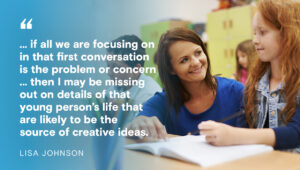 In this episode you will learn:
the importance of practitioners opening up conversations with children about their strengths, skills and interests [02:41]
some strategies for exploring children's strengths, skills and interests in your practice [03:42]
what other professionals have found helpful in this work [09:44]
Further information and resources:
Engaging children: Rich pictures (e-learning course)
Practical strategies for engaging children in a practice setting (practice paper)
An overview of child participation: Key issues for organisations and practitioners (practice paper)
References
Griffiths-Cook, J., & Fenn, L. (2018). Kids have big thoughts too. Life Transitions: what children say about change. Canberra: ACT Human Rights Commission.
Moore, T. (2017). Protection through participation: Involving children in child safe organisations. CFCA Practice Paper. Melbourne: Child Family Community Australia, Australian Institute of Family Studies.