In this episode, host Sophie Guy speaks with Dr Sara McLean about Fetal Alcohol Spectrum Disorder (FASD). Dr Sara McLean is a registered psychologist and researcher. She has conducted extensive work to identify the role and impact of developmental differences and FASD in children in out-of-home care.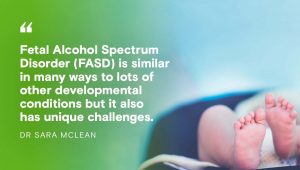 In this episode you will learn: 
Prevalence of FASD and the reason for its increase in recent years (06:10)
How is FASD diagnosed? (12:28)
What does effective therapeutic intervention look like for children with FASD? (18:33)
What is helpful for practitioners to know about working with children with FASD? (25:46)
Further information and resources:
Visit https://emergingminds.com.au/resources/podcast/fasd-podcast/ for all links and further information.