Re-release – The ongoing psychosocial needs of children following a community trauma
Runtime 00:20:19
Released 16/1/20
This is a re-released episode from our Community Trauma Toolkit podcast series.
We're currently seeking feedback on this podcast and would love to hear your thoughts. It'll take less than five minutes of your time and will help to shape future episodes. You can access the survey here: Podcast feedback. Thanks!
In this episode we talk to Michelle Roberts, a psychologist and expert in the areas of child and adolescent trauma, loss and grief, and children's disaster recovery. She has decades of experience as an educator and psychologist supporting school communities, and discusses with us the ongoing psychosocial needs of children following a disaster or community trauma and how schools and families can work together to help prioritise and support children's needs.
In this episode you will learn:
Why it is important to consider the needs of children after a disaster (00:43)
How children experience trauma differently to adults (2:14)
The main impacts of disaster on children (03:58)
The impacts of trauma on parenting and how to support parents (07:46)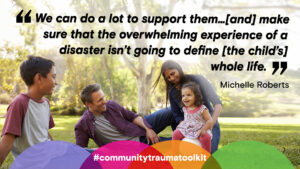 Further information and resources:
Trauma sensitive behaviour management
How educators can support children in the short term following a disaster or community trauma
Community Trauma Toolkit