In this episode, Emerging Minds Practice Development Manager, Dan Moss joins Senior Cultural Development Officer, Rosie Schellen and Senior Practice Development Officer, Chris Dolman to reflect on what has made the infant and child mental health podcast series so effective over the past four years and 100 episodes.
Rosie reflects on Emerging Minds' collaborative work with Aboriginal and Torres Strait Islander communities to help bring to the fore stories of strength, resilience and hope, as well as those of hardship and systemic disadvantage.
Chris describes how practitioners have helped change the way we think about infant and child mental health, in ways that make challenging work feel more possible and motivating. He also describes some of the ways that children and families with lived experience have contributed so richly to the podcast series.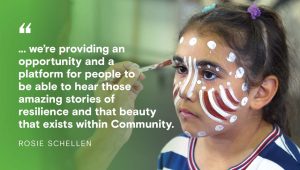 In this episode you will learn:
how Rosie has worked with Aboriginal and Torres Strait Islander communities, leaders and practitioners to respectfully bring forth stories of hope, resilience and connection, and the considerations that are important within this process [04:23]
how practitioners have contributed to understandings about infant and child mental health through stories of their everyday practice, and the strategies we can all use to help children and families tell their stories [06:52]
how hurt and connection, strength and wisdom have been so powerfully interwoven in the stories of our Aboriginal and Torres Strait Islander guests, in ways that generously assist all practitioners to consider how they can make room for these stories in their work with Aboriginal and Torres Strait Islander families and communities [09:56]
how discussions with parents about their hopes for their children can become a great antidote for the experiences of shame and blame that families often feel when working with a practitioner, and the kinds of strength-based practices that have helped families find new ways to connect and overcome adversities [17:28]
about the people that have contributed to the evolution of the Emerging Minds podcast series over the past 100 episodes! [20:50]