In this interview with Resilience, we investigate how they can 'turn setbacks into comebacks' in the lives of children, and how adults can support their work. We ask about the many different factors that help them thrive, both those that are part of a child's personality and their local ecology; and the challenges that children have in staying connected to Resilience when they experience trauma. 
Our interview is with 11-year-old Jenny's Resilience. Jenny has been through several foster homes since being removed from the care of her biological parents when she was young, due to ongoing abuse. For Jenny, the experiences of abuse and neglect and the separation from her family have had a huge impact on her life and how she feels about herself and the world. She is often very hard on herself and spends a lot of time focusing on what she does wrong.  
Jenny's Resilience discusses the many ways in which they have worked with Jenny to get through tough situations. They discuss Jenny's persistence in maintaining a close and nurturing relationship with her little sister, and her determination to stand up for what's right. Resilience shares some of the ways in which Jenny's psychologist is helping her to shift her negative self-perceptions and identify her strengths, and how this is helping to make her relationship with Resilience even stronger. They also discuss the crucial role adults play in helping children notice their skills and know-how.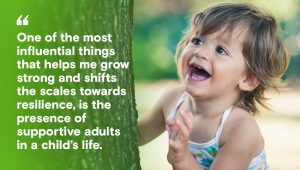 In this episode you will learn: 
the many factors that determine how present Resilience can become in the life of a 

child

[1:44]

t

he ways in which Resilience can help children practice protest in their lives when they see things that aren't fair, and the important role that adults have in noticing this 

protest

[

4:19]

h

ow supportive adults can help Resilience in children's lives and help them to notice their values, skills and 

know-how [9:45]

some of the

w

ays in which 

professionals can help children notice their strengths, shift their negative perceptions about themselves and further develop their Resilience [14:05]