While I'm Away app
Emerging Minds, Australia, October 2020
Resource Summary
The While I'm Away app has been designed to help parents support the mental health and wellbeing of their child should they need to be cared for by someone else (e.g. if a parent needs to go into hospital, travel for work, or is separated from their child for any period of time). The app guides parents through a series of questions that captures the most important information about their children including key people, daily routines, interests, hobbies, medical information and more.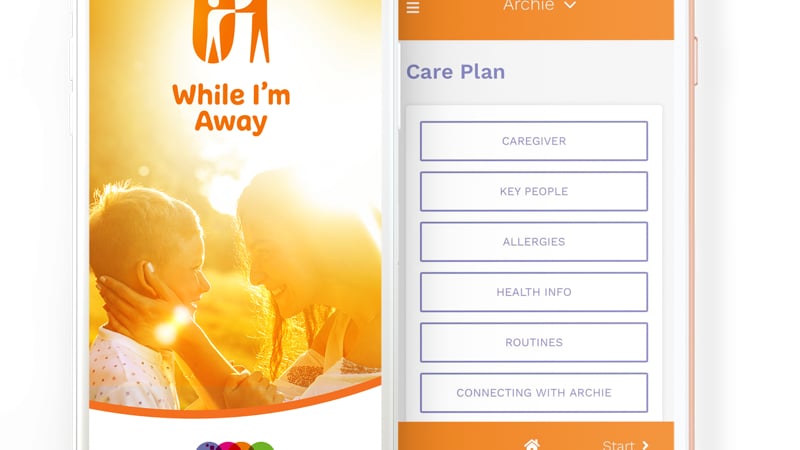 Who is this app for?
The app is designed to be used by parents and caregivers. Parents can create a unique profile for each of their children and assign a caregiver to each child. Profiles can be created for children of any age. The caregiver can use the app to access care plans and keep updated on changes to plans in real time.
Why was this app developed?
While I'm Away is based on Emerging Minds' existing shared care plans. Converting these paper-based plans into an app meant creating a more dynamic, portable, and easily accessible tool that parents and their nominated caregivers can use anytime via their mobile phone. Importantly, While I'm Away allows parents to continue to support their child's mental health and wellbeing, even if they are separated for an extended period of time.
How can practitioners support parents to use the app?
While the app can be used alone, some parents may prefer to go through the app with the support of a practitioner. Practitioners can work to support parents in articulating the care they would like their children to receive whilst they are apart. A practitioner's role may be to support parents to navigate the app, understand why it can be important to share particular information with a caregiver, and provide any support to parents who may face barriers to completing the app (e.g. parents with limited literacy or technology skills, or from culturally and linguistically diverse backgrounds).