Complex developmental trauma can affect children's lives in many ways. It can have an impact on development and may lead to poor long-term outcomes if not addressed. These impacts also present many challenges for parents and caregivers, as well as practitioners.
Effective trauma-informed practice requires a comprehensive understanding of the signs and effects of complex developmental trauma. Practitioners also need to have the skills and confidence to have protective conversations with children and their families.
In this episode, we talk with Kathryn Lenton of the Australian Childhood Foundation about working with children and families who are living with the impacts of complex developmental trauma. Kathryn draws on her extensive clinical experience as a social worker and counsellor to discuss key understandings and practices for effective trauma-informed practice.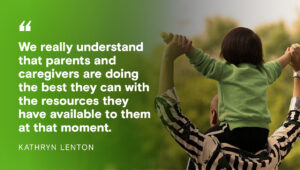 In this episode you will learn:
what complex developmental trauma is and how it may manifest in children's lives [01:18]
key understandings that can support practitioners [06:00]
strategies for working effectively with parents and caregivers [09:41]
how to differentiate between the impacts of complex trauma and medical diagnoses [18:15]
ways to respond to children's experience of shame [22:01]
Further information and resources:
What is meant by PACE? https://ddpnetwork.org/about-ddp/meant-pace/
PACE and the Dyadic Developmental Psychotherapy (DDP) model: https://ddpnetwork.org/about-ddp/
Dyadic Developmental Psychotherapy training: https://professionals.childhood.org.au/training-development/ddp/
The impact of trauma on the child (online course): https://emergingminds.com.au/resources/trauma-and-the-child-e-learning-course/
Supporting children who have experienced trauma (online course): https://emergingminds.com.au/resources/supporting-children-who-have-experienced-trauma-e-learning-course/
Supporting children who disclose trauma (online course): https://emergingminds.com.au/online-course/supporting-children-who-disclose-trauma/
How to recognise complex trauma in infants and children and promote wellbeing (webinar): https://emergingminds.com.au/resources/recognising-complex-trauma-in-infants-and-children/
Complex trauma through a trauma-informed lens: Supporting the wellbeing of infants and young children (practice paper): https://emergingminds.com.au/resources/complex-trauma-through-a-trauma-informed-lens-supporting-the-wellbeing-of-infants-and-young-children/
Working and walking alongside First Nations children and young people – a practical guide for non-Aboriginal workers (practice paper): https://emergingminds.com.au/resources/working-and-walking-alongside-first-nations-children-and-young-people-a-practical-guide-for-non-indigenous-workers/