Supporting children through understanding regulation – part 1
What is regulation and why is it important to children's social and emotional wellbeing? This episode we're joined by Ben Rogers, an occupational therapist and Manager of Community Trauma at Emerging Minds. Ben has worked across educational, clinical and developmental settings in the UK and Australia. As part of his current role, Ben works with Be You's Bushfire Response Program to support learning communities following the 2019/2020 bushfires in Australia. 
This conversation ran for longer than usual, so we have split it into two parts. In part one, Ben shares his understanding of what regulation is, why practitioners might want to know about it, and what children need to develop healthy regulation.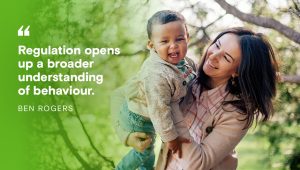 In this episode you will learn:
w

hat regulation is [

02

:

31]

body-based approaches to support regulation [

09

:

49]

b

ody-mapping 

and

how to help

children to understand their own regulation [

16

:

18]

t

herapeutic use of self

and the importance of safety cues [

18:19]

what children need to develop healthy regulation [

20:15]




 
Further information and resources: 
Podcast interview with Chris Cussen: A polyvagal approach to working with trauma: https://emergingminds.com.au/resources/podcast/a-polyvagal-approach-to-working-with-trauma/