Supporting children through understanding regulation – part 2
What is regulation and why is it important to children's social and emotional wellbeing? This episode is part two of a conversation with Ben Rogers, an occupational therapist and Manager of Community Trauma at Emerging Minds. Ben has worked across educational and developmental services in the UK and Australia and as part of his current role, works with Be You's Bushfire Response Program to support learning communities following the 2019/2020 bushfires in Australia. 
This episode delves further into the concept of coregulation; and how a regulation perspective helps to make sense of children's emotions and behaviour as adaptive responses to what is happening in their environment.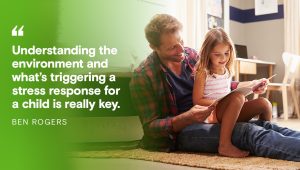 In this episode you will learn: 
h

ow a regulation framework helps practitioners to understand children's behaviour

[

02

:

45]

how to s

upport children to develop self-regulation

[

08

:

03]

t

he importance of experiencing co-regulation

in order to

 develop self-regulation

[

12

:

32]

how to b

ring the principles of regulation into practice with children and families

[

16

:

54]




 
Further information and resources: 
Podcast interview with Chris Cussen: A polyvagal approach to working with trauma: https://emergingminds.com.au/resources/podcast/a-polyvagal-approach-to-working-with-trauma/